Get your daily dose of high quality and premium products at Giant with our Top Picks. Exclusive to Giant, Top Picks are standout products from private label brands that are perfect for consumers who want to enjoy premium product experience. We're so confident these products will satisfy you that we're willing to give your money back if they won't!
Bonus: If you're a UOB Delight Cardmember, you get to enjoy 10% off products from these brands.
Why Are We So Confident About Top Picks?
Our Top Picks go through stringent and robust quality assurance process, so they can surpass your expectations and satisfy you!
Selecting the most responsible suppliers
Choosing manufacturers with good practice
Selecting the best products through customer surveys
Food safety test from accredited labs
Ensuring product quality through routine checks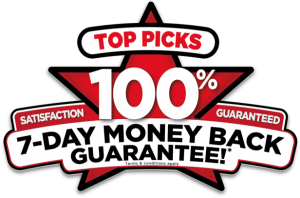 100% Satisfaction Guaranteed…Or You Get Your Money Back!
If these products aren't satisfactory enough for you, don't worry! You have our word: We'll give all your money back! No strings attached!
How do I get my money back?
Not satisfied with our Top Picks? Get your refund within seven days of purchase—just follow these quick steps:
Step 1
Produce original receipt any Giant stores.
Step 2
Return 3/4 of the unused product.
Step 3
Bring the product along with the original packaging.
Step 4
Get your money back within 7 days!
CAPTAIN'S CATCH
Freshly caught and delivered straight to your table – CAPTAIN'S CATCH is a delectable selection of seafood that's perfect for either a quick and healthy snack, or a fancy family meal.
FEATHERSOFT
FeatherSoft tissues are your ideal dining or general use companions, offering the perfect balance of softness and strength.
FRENCH CELLARS
French Cellars is the perfect way to savour exquisite wines from France, without the accompanying high price tags.
MARKET GARDEN
With Market Garden, savour the best of the season's natural bounty plucked at the peak of its ripe natural goodness.
SIMPLY DELIGHT FINNESSE
An impressive collection of our festive delights for the best times of the year - your year.
SIMPLY LIVING
Home is where the heart is. It's the space we come home to everyday, live with our family, invite our friends to share.
SOUTHDALE FARM
Wholesome and natural: Southdale Farm is home to delicious dairy products that are lovingly crafted, using only the freshest ingredients straight from nature.
SUN HARVEST
Whether you are starting the day right with a nutritious breakfast or indulging in a healthy afternoon snack, Sun Harvest's wide range of wholesome products has something for everyone and every occasion.
SUNNY MEADOW
Sunny Meadow believes in nurturing family health with good, simple food that's direct from nature – offering healthy choices of sunflower, canola and olive oils, along with other related products.
THE GOOD BEAN CO.
We're all coffee lovers at THE GOOD BEAN CO. and we take our love for coffee very seriously.
WINEMAKERS' RESERVE
Winemaker's Reserve is a range of wines from France specially selected to deliver outstanding value for everyday drinking.
WORLD O'NOODLES
Satisfy your cravings for a quick meal, with a steaming hot bowl of wholesome noodles that can be ready in just minutes.